ILR Communications and Marketing has established an ILR calendar for internal use that provides a big-picture look at events going on schoolwide. You'll be able to easily access the calendar and enter event information yourself, at any time.
What kind of events will be included in this calendar?
Events planned for 2019-20 can be listed in the calendar, although it is possible to include events beyond that time frame, if dates are confirmed. Among the events we will feature in this calendar:
ILR lectures and conferences
Cornell University academic calendar items (classes start, fall break, winter break, graduation, reunion, Trustee Council Weekend)
Major Cornell events with an ILR connection or of interest to the ILR community
ILR alumni events
ILR Career Services workshops
Credit Internship Program information sessions
Student-sponsored lectures and public events
How do I access and view the calendar?
We've created this calendar in Outlook, and it's easy to access and use:
Open Outlook and click the calendar button
From the menu bar at the top, click Open Calendar
Choose Open Shared Calendar and then type in "ilrevents" (one word)
The calendar should open and display events
Click on an event to view details.
You can view events by Day, Week or Month by clicking on one of those buttons at the top of the page

Will I be able to enter event information directly to the calendar?
Yes, we want to encourage everyone to enter events as you become aware of them.
To enter events to the ILR calendar:
Access the ILR Calendar following the steps above. Once you've accessed the calendar, you'll follow the same process you would for scheduling a meeting.
Go to the date of your event, double click on the time, and enter the information. Include as many details as possible (title, date, time, location, description, event contact).
Example:
Subject: LR/ICL Workshop Series - Improving Working Conditions in Developing Countries
Location: 281 Ives Hall, Faculty Wing
Start Time: 11/3/2015 4:30 p.m.
End Time: 11/3/2015 5:30 p.m.
Description: Speaker: Raymond Robertson, Professor of Economics, Macalester College
Event contact: Anne Sieverding, acs5@cornell.edu, 607-255-4524
(Note: Description, contact and other details can be placed in the box below the "End time" entry)
Once you have finished entering the information, click on the save/close button and your event will be added to the calendar.
Notify ilrevents@cornell.edu immediately of any cancellations or date/time/place/content changes.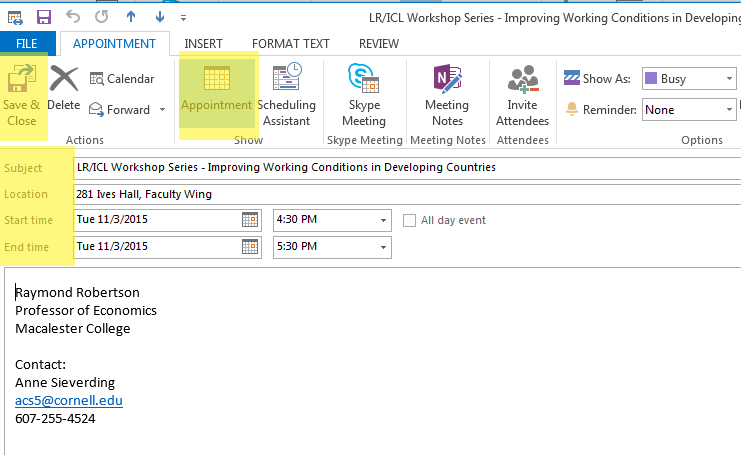 When can I start using this calendar?
The calendar is live, so you can submit information immediately.
If I submit something to the internal calendar, will it automatically be entered into the ILR and Cornell calendars?
This calendar does not feed to the central university calendar or the ILR Web page calendar. If you submit to this internal calendar, Joanne can make sure the information is entered into the Cornell and ILR events calendars, if appropriate.
For More Information
If you are having difficulty entering information, please contact Betsy at 254-8941 or bw485@cornell.edu. You can also send event information to ilrevents@cornell.edu.