ILR's annual celebration of the School and its network of dedicated alumni and friends took place on March 27th at the Grand Hyatt in NYC. The theme was definitely family - the awardees all credited family members with shaping their values and influencing their personal and professional lives. The ILR family theme was also an overarching message. Over 500 alumni and close friends of the School, including 86 recent alumni, turned out to celebrate ILR and the great ILR network.
When: Thursday, March 27, 2008
Time: 5 - 9 p.m. Cocktails, hors d'oeuvres and awards ceremony
Where: Grand Hyatt, 109 E 42nd Street, New York City
Robert Molofsky '72
Judge William B. Groat Award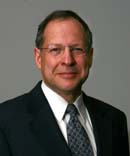 Robert Molofsky '72 is an accomplished labor-union attorney; a highly regarded legislative and political strategist and a nationally recognized transit and labor policy expert.
Currently, Robert is Vice-President/Special Counsel of the AFL-CIO Investment Trust Corporation (ITC), with management responsibilities for marketing the $2.8 billion AFL-CIO Building Investment Trust (BIT), a real estate equity fund open to private and public sector pension plans benefitting unionized employees, and overseeing ITC compliance matters. The ITC is a diversified marketing and financial services company focused on raising capital, and providing labor relations and investor services for labor friendly funds.
For 25 years Robert served in senior staff positions at the 185,000 member International Amalgamated Transit Union. As general counsel from 1996-2006, he directed the International Union's legal department, and oversaw the activities of ATU staff lobbyists carrying out federal and state legislative and political activities. He has represented the ATU before the US Congress and numerous federal agencies including the US Departments of Labor and Transportation, the NLRB, FMCS, EEOC and IRS.
From 1981 through 1995, Robert served as the ATU's Legislative Director. As such, he was responsible for the International Union's legislative and political programs. He was chief spokesperson for the ATU and transit labor, heading legislative coalitions that helped enact five multi-year federal highway/transit bills between 1982 and 2005. He also successfully led many legislative campaigns involving transit labor and privatization issues in over ten states as well as the provinces of Ontario and Alberta, Canada. In 1992 he was selected to serve a two-year term as co-chair of the AFL-CIO Senate Campaign Committee. From 1977-1981, Robert served as an attorney with the NLRB in Region 22, Newark, New Jersey, and from 1972-1977, he was employed as an industrial relations specialist at t he U.S. Department of Labor.
Robert is a graduate of ILR (BS '72), where he served as Editor-in- chief of the ILR Forum, a journal which published scholarly research by undergraduate and graduate students. He received his law degree from American University Washington College of Law (1977). In 1999 he was selected to become a fellow in the College of Labor and Employment Lawyers.
Robert has served two terms on the ILR School Dean's Advisory Council and is an important part of and advocate for the School's cre dit internship program. He is an adjunct professor of the School, teaching Congressional procedure and public policy for ILR interns in Washington, D.C. For many years Robert served as Washington, D.C. Chapter Chair of the ILR Alumni Association and has organized and hosted numerous chapter events. With a special interest in helping to launch the careers of new ILR graduates, he regularly counsels, arranges internships and recommends job opportunities students and recent grads.
Robert resides in the District of Columbia with his wife, Anne Jacobs Molofsky, a nutrition consultant, and their two sons, David, 21 , a junior at Vassar College and Henry, 17, who will be attending Wesleyan University.
Mark Brossman '75
Judge William B. Groat Award
Mark E. Brossman, BS '75, is a partner in the New York office of Schulte Roth & Zabel LLP and is cochair of the Employment and Employee Benefits Department. He received a J.D. (1978) and LL.M. in Labor Law (1981) from New York University School of Law. His areas of concentration are ERISA,employment discrimination, labor relations, education law and related litigation. He is known as a skilled diplomat in walking the delicate balance between labor and management in his professional life. His acceptability to both has earned him the ability to serve as a neutral arbitrator on employment and pension cases. This is a true testament to his integrity and professionalism and that "ILR perspective".
Mark is a longtime member of the ILR Dean's Advisory Council. He also serves on the Cornell University Council and on the Advisory Boards of the Scheinman Institute on Conflict Resolution and the Labor and Employment Law Program. He spearheaded a major commitment from the New York City Carpenters Labor Management Corporation in connection with ILR's recently renovated Conference Center on the Cornell Campus. He has taught in the ILR Extension Division for many years and is highly praised by his students for his expertise and his classroom style. He has also been very involved in various initiatives at the ILR School including the Jack Sheinkman Chair in Collective Bargaining and the Noel Arnold Levin Scholarship.
Additionally, Mark serves on the Board of Trustees of the Citizens Budget Commission, the Board of Directors of the Center for Labor and Employment Law, NYU School of Law, the Board of Trustees of the Rippowam Cisqua School, and the Board of Directors of the Council of Senior Centers and Services of NYC. He is a member of the Academy of Employee Benefit Authors, was honored as an Advocate for the Aging by the Council of Senior Centers, received special recognition from the Home Care Council of NYC, was honored for pro bono services by the Lawyers Alliance of New York, and received the Emerald Isle Immigration Center's Robert Briscoe Award. Mark was selected by his peers for inclusion in The Best Lawyers in America(r) 2008 and New York Super Lawyers.
He is active in bar association activities and currently serves on the Executive Committee of the New York State Bar Association Section on Labor and Employment Law, and chairs the Committee on Employee Benefits. Mark is a widely recognized speaker on employee benefit, employment and education law issues and his list of publications is extensive. He co-authored Social Investing of Pension Funds: For Love or Money?
Mark has been married to Roberta Holinko for over twenty years, and they are the proud parents of nine year old twin girls, Emma and Callie. They have two Labrador retrievers and are avid equestrians. Mark's ILR roots is exemplified by his horse's name - Stryker!
Ruben King-Shaw Jr. '83
Jerome Alpern Award
Ruben Jose King-Shaw Jr., BS '83, is Chairman and CEO of Mansa Equity Partners, Inc., a health care private equity investment and advisory firm with offices in Carlisle, MA and Tallahassee, FL. The firm specializes in growing companies in the health care services and health care technology sectors as they prepare for expansion, acquisition, privatization or IPO.
Ruben is active in public service. He is a member of the ILR Dean's Advisory Council and serves on the Cornell University Council. Since 2005, Ruben has served as a member of Massachusetts Governor Mitt Romney appointed him to the University Of Massachusetts Board Of Trustees in September of 2005 and a member of Abbott Laboratories' Health Policy Board. In addition, Ruben is a director of the Scripps Florida Corporation and is a member of the Editorial Advisory Board of Medicare Patient Management Magazine.
Ruben has an extensive expertise in health policy, economics and finance and served in the George W. Bush Administration from 2001 to 2003 where he led many of President Bush's and HHS Secretary Tommy G. Thompson's health care reform initiatives as Deputy Administrator and Chief Operating Officer of the Centers for Medicare and Medicaid Services. Ruben was also Senior Advisor to the Secretary of the Treasury where he led the Administration's Health Coverage Tax Credit policies to finance coverage for the uninsured. President Bush named Ruben to the President's New Freedom Commission on Mental Health in 2002. Ruben was a major spokesperson and policy advisor for the Administration. Previously, Ruben had been Secretary of the Florida Agency for Health Care Administration. Before entering public service, he had twenty years of experience in health care services.
Ruben earned his Master of International Business at the Chapman Graduate School of Business in Miami, FL and Madrid, Spain. In addition, he holds a Master in Health Services Administration from Florida International University.
Ruben is happily married to Patricia Gipson King-Shaw of Lynwood, CA and they have two beautiful daughters, Alexandra Anis, and Angelica Anastasia. They are active philanthropists, funding projects in education and community development in the United States and southern Africa. and Latin America. He has been an enthusiastic ambassador for Cornell and the ILR School and its priorities, in particular ILR diversity initiatives. Ruben additionally gives generously of his time behind the scenes through informal mentoring to young alumni. He has assisted the School in the context of the University's Far Above Campaign by providing advice and assistance on ILR?s fund raising efforts.