The Workplace and Small Business Initiative brochures were designed to have nationally applicability with inserts reflecting state or local laws. This model can be easily adapted to reflect your state and/or local laws. The Small Business Initiative brochure is available in five languages (English, Spanish, Chinese, Japanese and Korean). For technical assistance regarding the law please contact Legal Momentum at dwidiss@legalmomentum.org or visit www.legalmomentum.org.
Workplace Posters and brochures are available for FREE in bulk, but charges for postage will apply. All are designed with space to affix an organizational sticker to personalize the information with local contact numbers.
Please contact K.C. Wagner if you are interested in obtaining printed materials.
Available Printed Materials
Brochures
All brochures are tri-fold
Union Cards
Union cards are palm-sized cards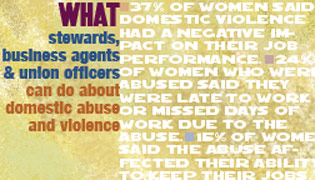 Wall Posters
Wall posters are 8.5" x 11"