Featured Report: Reversing Inequality, Combating Climate Change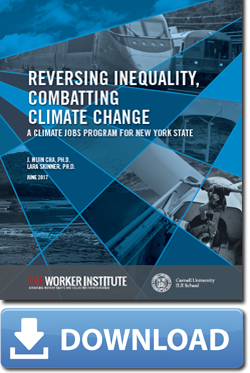 "New York State can act now to protect New Yorkers from the worst impacts of climate change while also addressing growing economic inequality. An ambitious and audacious climate jobs agenda creates good, high-road jobs for communities across the state and drastically reduces greenhouse gas pollution. By adopting a climate jobs agenda, New York can lead the country and chart the way to a low-carbon, equitable economy."
Click here to download the newly released report Reversing Inequality, Combatting Climate Change: A Climate Jobs Program for New York State (PDF, 9MB)
For more information about the full report, the initiative or the Labor Leading on Climate Curriculum, please contact Lara Skinner at lrs95@cornell.edu or 212-340-2884.
About the Initiative
The Labor Leading on Climate Initiative advances knowledge, policies, and practices to enhance the role of labor and working people in addressing the environmental and climate crises. The initiative's efforts focus on building a truly sustainable society and economy.
The initiative also helps workers' rights advocates to better understand the employment and labor implications of environmental, climate and sustainability issues through a variety of activities:
Engages in research and produces scholarly articles and reports
Assists with leadership development and strategy design
Conducts training sessions and develops training materials
Offers technical assistance to unions, worker organizations and policy organizations
Offers undergraduate/graduate courses on the intersection of labor-environmental issues
The initiative helps unions, workers' organizations and other advocates of workers' rights respond to the following questions:
What does the transition to a truly sustainable, low-carbon society and economic model mean for unions, workers and their workplaces, communities and industries?
Can environmental sustainability and climate protection policies drive job creation and promote greater equality?
What type and how many green or climate jobs are needed in the new low-carbon economy?
How can a just transition be achieved that protects and supports workers and communities who are negatively impacted by the transition to a low-carbon economy?
What role do labor-environmental alliances have in building an equitable, low-carbon and sustainable society?
Selected Resources
Advancing Workers Rights And Combating Climate Change. (Article highlighting Climate Jobs Program published in Electrical Union World, the newsletter of IBEW Local 3)
Labor's Route to a New Transportation System: How Federal Transportation Can Create Good Jobs, First-Rate Mobility, and Environmentally Sustainable Communities

(PDF, 1 MB)

. Lara Skinner
Transport Workers and Climate Change: Towards Sustainable, Low-Carbon Mobility.

(PDF, 1004 KB)

Lara Skinner and Sean Sweeney
Impact of tar Sands Pipeline Spills on Employment and the Economy

(PDF, 968 KB)

. Lara Skinner and Sean Sweeney
Pipe Dreams? Jobs Gained, Jobs Loss by Construction of the Keystone XL Pipeline

(PDF, 1 MB)

. Lara Skinner and Sean Sweeney
Greener and Safer Purchasing Guide. Nellie Brown
Green Jobs: Toward Decent Work in a Sustainable, Low-Carbon World. Michael Renner, Sean Sweeney and Jill Kubit
Indoor Environment of a Green and Healthy Home. Nellie Brown, Arthur Wheaton
Contact
Lara Skinner
Executive Director of The Worker Institute
Chair of Labor Leading on Climate Initiative
212-340-2884 | lrs95@cornell.edu