Strategic Compensation and Talent Management
(Cambridge University Press, March 2020)
Jed DeVaro,

"Strategic Compensation and Talent Management gets to the heart of what compensation is really about: attracting, retaining, and motivating the people who accomplish an organization's goals. DeVaro uses economics to give students of compensation an intellectual foundation, then builds upon this with references to a wide range of vignettes and case studies. This approach should benefit advanced undergraduates, master's students, and even compensation practitioners who want to see the forest through the trees." Alan Benson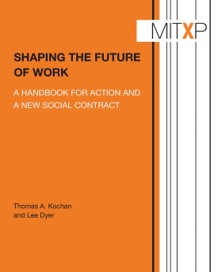 Shaping the Future of Work
(The MIT Press, August 2017)
Thomas A. Kochan and Lee Dyer

This book provides a roadmap for what workers, business, labor, education, and government need to do to build a new social contract for all to prosper. It is a call to action for building high-quality jobs and strong and successful businesses through collaborative efforts capable of overcoming the deep divisions all too apparent in society today.
(Cornell University Press, 2016)

Susanne Bruyere

This book is about the employment of people with disabilities in the United States and the important role of employer practices. Nearly one in five people report some form of disability, and they are only half as likely to be employed as those without disabilities. With the aging workforce and returning military veterans both contributing to increasing number of disabilities in the workplace, there is an urgent need for better ways to address continuing employment disparities for people with disabilities. Examining employer behaviors is critical to changing this trend. It is essential to understand the factors that motivate employers to engage this workforce and which specific practices are most effective. Disability and Employer Practices features research-based documentation of workplace policiies and practices that result in the successful recruitment, retention, advancement, and inclusion of individuals with disabilities.
The Cornell team whose work is featured in this book drew from multiple disciplines, data sources, and methodologies to learn where employment disparities for people with disabilities occur and to identify workplace policies and practices that might remediate them. The contributors include individuals with expertise in the fields of business, economics, education, environmental design and analysis, human resources, management, industrial/organizational psychology, public health, rehabilitation psychology, research methods, survey design, educational measurement, statistics, and vocational rehabilitation counseling.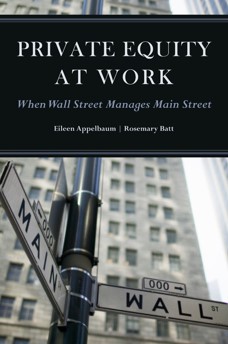 Private Equity at Work When Wall Street Manages Main Street
(Russell Sage Foundation, 2014)
Eileen Appelbaum and Rosemary Batt
Private equity firms have long been at the center of public debates on the impact of the financial sector on Main Street companies. Are these firms financial innovators that save failing businesses or financial predators that bankrupt otherwise healthy companies and destroy jobs? The first comprehensive examination of this topic, Private Equity at Work carefully evaluates the evidence—including original case studies and interviews, legal documents, bankruptcy proceedings, media coverage, and existing academic scholarship—to demonstrate the effects of private equity on American businesses and workers. A groundbreaking analysis of a hotly contested business model, this book provides an unprecedented analysis of the little-understood inner workings of private equity and of the effects of leveraged buyouts on American companies and workers, serving as a valuable resource for scholars, policymakers, and the informed public alike.
Retirement and the Hidden Epidemic
The Complex Link Between Aging, Work Diengagement, and Substance Misuse and What To Do About It
(Oxford University Press, 2014)
Peter A. Bamberger and Samuel B. Bacharach
Evidence from both local and national surveys suggests that substance misuse and abuse among older adults in the United States is a "hidden epidemic" that poses a major threat to the welfare and quality of life of older drinkers and their families, and has significant public health implications. Based on their findings from a 10-year, NIH-funded study of retirement, aging, and substance misuse, Peter Bamberger and Samuel Bacharach examine the complex web of factors contributing to the precipitation and exacerbation of substance problems among older adults. They discuss the individual and public health implications of such problems, as well as some of the evidence-based steps that may be taken to prevent their emergence and help those in need of assistance forpolicy-makers and health practitioners.
Pay
Why People Earn What They Earn and What You Can Do Now to Make More
(Cambridge University Press, 2013)
Kevin F. Hallock
Billions of people throughout the world are paid for their work. This book was written to explain why they earn what they earn and, in doing so, to help readers understand how they can earn more in both the short and long run. It describes wages, wage differences across groups, wage inequality, how organizations set pay and why, executive and "superstar" pay, the difference between pay and "total rewards" (including benefits, opportunities for growth, colleagues, and working conditions), compensation in nonprofits, and the differences between the cost of compensation to organizations and the value employees place on that compensation. It also offers tips on what an individual can do to do to earn more.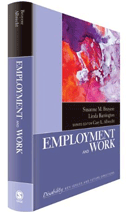 Employment and Work
(Sage Publications, 2012)
Susanne M. Bruyere and Linda Barrington
This volume in The SAGE Reference Series on Disability explores issues facing people with disabilities in employment and the work environment. It is one of eight volumes in the cross-disciplinary and issues-based series, which incorporates links from varied fields making up Disability Studies as volumes examine topics central to the lives of individuals with disabilities and their families. With a balance of history, theory, research, and application, specialists set out the findings and implications of research and practice for others whose current or future work involves the care and/or study of those with disabilities, as well as for the disabled themselves. The presentational style (concise and engaging) emphasizes accessibility.
Please visit Cornell University's Library Catalog for the e-version of Employment and Work.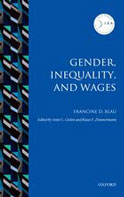 Gender, Inequality, and Wages
(Oxford University Press, 2012)
Francine D. Blau
In all Western societies women earn lower wages on average than men. The gender wage gap has existed for many years, although there have been some important changes over time. This volume of collected papers contains extensive research on progress made by women in the labor market, and the characteristics and causes of remaining gender inequalities. It also covers other dimensions of inequality and their interplay with gender, such as family formation, wellbeing, race, and immigrant status. The author was awarded the 2010 IZA Prize in Labor Economics for this research.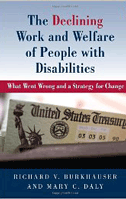 The Declining Work and Welfare of People with Disabilities: What Went Wrong and a Strategy for Change
(AEI Press, 2011)
Richard Burkhauser and Mary Daly
The U.S. disability insurance system is an important part of the federal social safety net; it provides financial protection to working-age Americans who have illnesses, injuries, or conditions that render them unable to work as they did before becoming disabled or that prevent them from adjusting to other work. An examination of the workings of the system, however, raises deep concerns about its financial stability and effectiveness.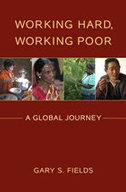 Working Hard, Working Poor: A Global Journey
(Oxford University Press, 2011)
Gary S. Fields
More than three billion people, nearly half of humankind, live on less than two-and-a-half U.S. dollars per person per day. Studies have shown repeatedly that the main and often the sole asset of the poor is their labor. It follows that to understand global poverty one must understand labor markets and labor earnings in the developing world. Excellent books exist on ending world poverty that discuss in depth many important aspects of economic development but do not focus on employment and self-employment, work and non-work. Working Hard, Working Poor fills in where the other books leave off.
Managing Quality Service In Hospitality: How Organizations Achieve Excellence In The Guest Experience
(Cengage Learning, 2011)
Robert C. Ford, Michael C. Sturman and Cherrill P. Heaton
The first edition is designed for those wanting a thorough understanding of the principles of managing a hospitality organization. It teaches the concepts and principles of creating a "WOW" experience for customers by treating them as guests. The text uses benchmark organizations to review the best that is known about managing hospitality organizations.
The Economics of Women, Men, and Work
(Prentice Hall, 2010)
Francine D. Blau, Marianne A. Ferber and Anne E. Winkler
The most current and comprehensive source available for research, data and analysis on women, gender, and economics.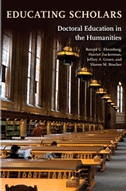 Educating Scholars: Doctoral Education in the Humanities
(Princeton University Press, 2009)
Ronald G. Ehrenberg, Harriet Zuckerman, Jeffrey A. Groen and Sharon M. Brucker
The only book to focus exclusively on the current state of doctoral education in the humanities, Educating Scholars reports on the GEI's success in reducing attrition and times to degree, the positive changes implemented by specific graduate programs, and the many challenges still to be addressed.